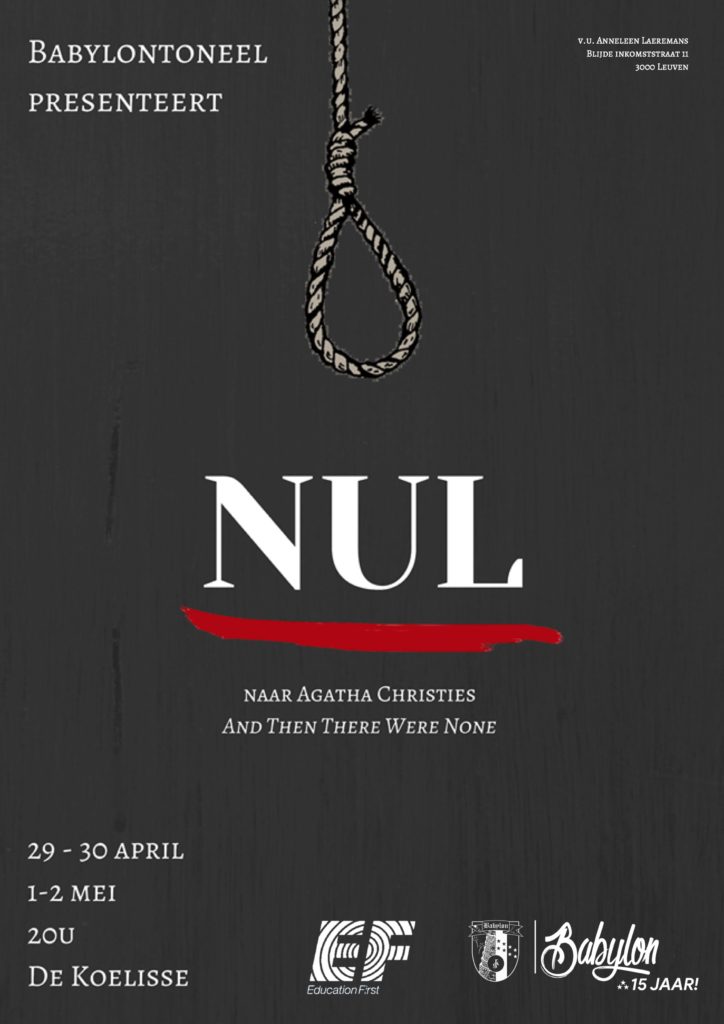 "NUL" van Agatha Christie (vertaling door Hein Beem)
29 en 30 april, 1 en 2 mei om 20u in de Koelisse
Korte beschrijving stuk:
Ten little soldier boys went out to dine;
One choked his little self and then there were Nine.
Devon, Soldier Island. Tien mensen, vreemden voor elkaar, arriveren voor het diner. Plots, een stem. Beschuldigingen. Iedereen lijkt iets te verbergen. Een storm snijdt het eiland af van de buitenwereld. Wanneer de eerste dode valt, slaat de angst toe.
Wie is de moordenaar, wie het volgende slachtoffer?
Regie: Iris Verstraeten
Crew: Productie: Felix Van Bladel; Techniek: Leen Van Ende & Andries Denaux
Cast: Yannis Tate, Sonia Mutaganzwa, Mathieu Lonbois, Liam Hamelryck, Kaat De Beule, Lieselot Van den Broeck, Felix Van Bladel, Charlotte Maes, Alexine Jeurissen, Anne Huyghebaert